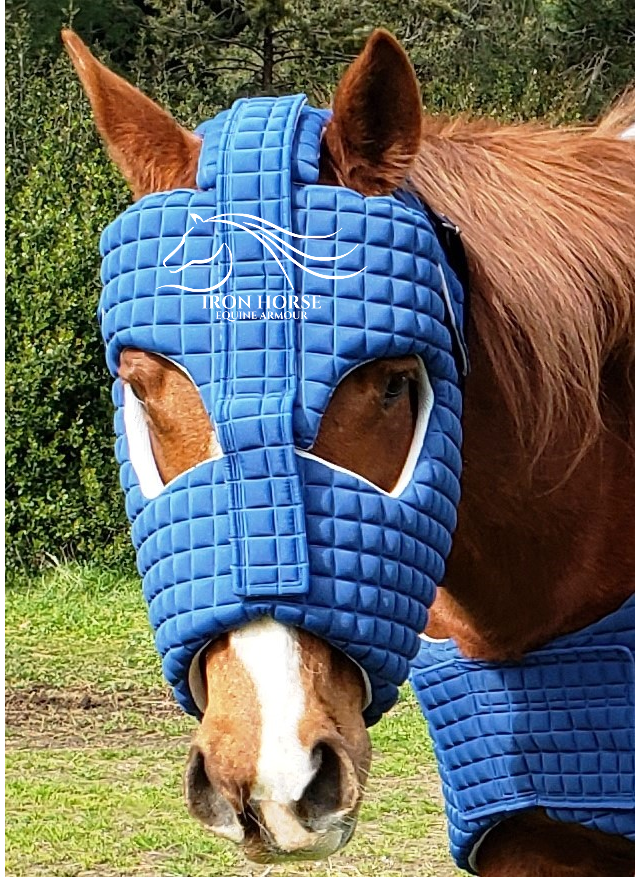 IRON HORSE is the new brand launched by Animantia team to create specific protective equipment for horses.
The EQUINE ARMOUR, one and only of its kind, was conceived  to protect the horses travelling by plane, trailer, train and other necessary means.
In addition, it is essential for post-operative comfort and protection for horses as they recover from anaesthesia and as shockproof for the rehabilitation of horses with neurological problems and behavioural issues.
Nowadays, more and more horses travel by plane worldwide, and often they undergo trauma of all sorts, despite sedation. Moreover, horses often sustain physical injuries even during ground transportation.
The idea was born because there was no specific solution for horses exposed to long trips or risky situations involving physical trauma. In addition, wearing the armour, the horse can safely avoid sedation that usually involves several travel days and stops for doping controls.
A multipurpose creation for total protection of the horse
that includes helmet, body protection and leg protection.  
ITALIAN CONCEPT & DESIGN
THE EQUINE ARMOUR: WHAT IS IT AND WHAT FOR
For privacy reasons YouTube needs your permission to be loaded. For more details, please see our
Privacy Policy
.
I Accept
Look how to dress your horse with the Equine Armour!
For privacy reasons YouTube needs your permission to be loaded. For more details, please see our
Privacy Policy
.
I Accept
Horses can enjoy social life without harming themselves!
For privacy reasons YouTube needs your permission to be loaded. For more details, please see our
Privacy Policy
.
I Accept
Made with high quality materials, easy to use, worn like a normal blanket, provides great protection. Ergonomically shaped for a close fit while being simple and fast to put on. It adheres perfectly to the body following every movement without constraint.
The composing materials are able to absorb intense levels of shock and impact. Fully adjustable via multiple areas of attachment in Velcro.
Due to the composition, totally devoid of PVC (polymerizing vinyl chloride) and toxic materials, the body armor ensures, in a natural and physiological way, a consistent body temperature while allowing continuous transpiration. It helps to transmit any moisture preventing your horse from overheating.
The external casing is made of a high-tech artisan fabric with thermoformed quilting that provides great beauty and refinement.
It is equipped with a hinge for removable covers that are machine washable. The high-tech artisan fabric, due to its natural characteristic, is devoid of any artificial chemicals that could migrate to the animal. Hypoallergenic, it does not develop physiological dust and making it naturally insect resistant.
The inner padding is in expanded polyurethane of very high lift, naturally antibacterial, resistant to streptococcus, staphylococcus, and prevents decubitus. Nontoxic.
The inner lining, soft and nice to feel, is characterized by a cavity that creates total breathability since it allows the natural air flow and ease of mobility for the horse.
If needed, the armour can also be used without padding as a protective high-tech blanket.  You can customize it with logos or brands of all kinds is available and have it tailor-made for your horse.