Alice, a wise heart
by Elena Carfagna
Alice has a fresh childlike face and a transparent gaze. She greets me with a smile and immediately captivates me with her gentle manners and calm tone of voice. We meet over a cup of coffee to hear the story of her deep love for horses and how her fateful encounter with equine ethologist and behaviorist Elena Bajona gave her a new lease on life.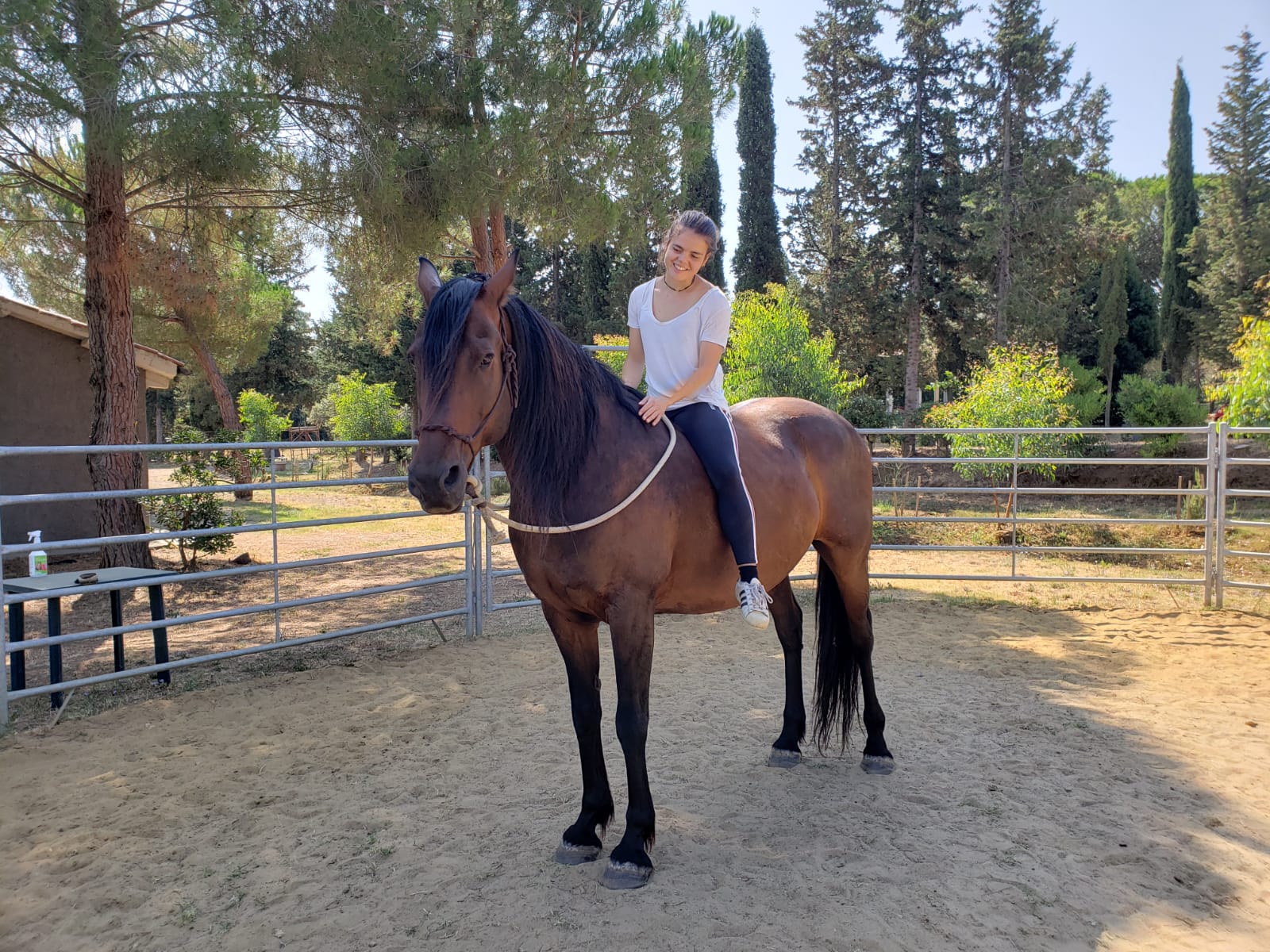 Alice's passion for horses was born with her, it's part of her genetic makeup, and it has never left her. Her parents told her that she was in a stroller and couldn't even speak yet when she first saw a horse. It was love at first sight, and her whole body exploded with uncontrollable joy. When she was three years old, her grandparents took her to a riding stable for the first time. She was so small that she couldn't even reach the smallest stirrup hole, but she still remembers how happy she felt. "I was in elementary school when I was old enough to actually ride, and I spent Saturdays and Sundays dedicating entire days to horses. But this idyll would soon come to an end. When I was in middle school, I had a bad accident. I fell off a horse abruptly, and due to back problems, I had to stop riding for a while. Everyone advised me against returning to riding until my high school boyfriend gave me a horseback riding lesson as a gift. It was my lucky opportunity to return to the world I loved so much—horses, my true world."
"Amidst the countless sacrifices of juggling a demanding study and the distance from the stable that forced me to walk several kilometers," Alice continues, "I resumed riding diligently. But after visiting various stables, over time I realized that I no longer liked that world where the horse is primarily seen as a tool, a machine at the disposal of humans. It didn't resonate with my values and principles. And so, reluctantly, I decided to let it all go. But I wasn't happy. Horses are something I have always known I couldn't live without."
"One day, my dad realized that I wasn't happy. He, who always encouraged me to live without betraying myself and my aspirations, to express who I really am to the fullest, went in search of something that would bring me into close contact with nature. By chance, he stumbled upon Elena: I couldn't have received a greater gift! Since that fortunate day, I have become acquainted with Elena's fantastic world, which has also become my own. It was everything I was looking for, and I will never stop thanking her!
She has immense experience with horses, the result of a lifetime dedicated to these magnificent animals. With Elena, I learned that it is possible to respect the horse in its individuality, its sensations, and emotions. We choose not to transfer our anxieties and demands onto them, not to impose our idea of performance on them, assuming that they should live for us. The secret is to pause and listen to them, to be attentive to what they want to convey to us, to meet their requests and needs, to establish a relationship that is solely a source of mutual well-being. By doing so, we will realize that it is us humans who benefit the most."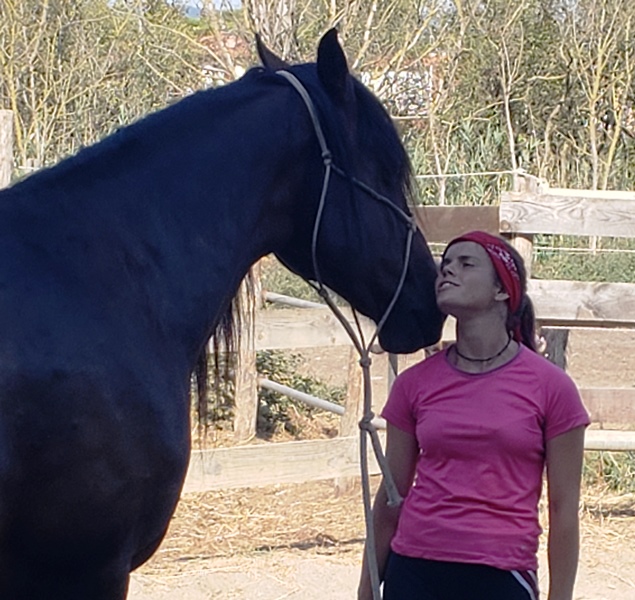 "Then, this summer, I had a very powerful moment with one of Elena's horses," Alice recounts, "and that's when I understood that it was time to let go, abandon all resistance, and dare something different. I began living in the present moment, as horses do, as Elena always tells me. My new approach with horses has opened up a world within me that is less focused on the future and less trapped in the past. It  has helped me gain confidence in myself and in the choices that I now try to pursue to the end. I tell myself it's better to make mistakes than not even try, as that would mean being defeated from the start." Alice feels lucky to have embarked on such an important journey at such a young age; it's not common for everyone to have such awareness at 20 years old!
Never before has her immense love for horses been so reciprocated, and all thanks to the transformation brought about in her by Elena's precious teachings.
"Elena is an incredible person," says Alice. "She is truly a force. She knows how you're doing, how you feel, what you think, how well you slept. She reads things on your face that you yourself don't even know. And she possesses great inner strength. I have seen her say the most difficult things with the gentleness of someone who doesn't want to hurt people's sensitivity. She always maintains a righteous behavior, never letting herself go, staying calm and composed even in situations where it would be very difficult for anyone to restrain themselves."
Although Alice doesn't hide that she felt a bit of reverential fear the first time she met Elena, she adds, "She knows her worth and stays true to her path without hesitation. She is self-sufficient, and even more so, and I can't help but have immense respect for the person she is, for the values she upholds, for her experience, her expertise, and her vast knowledge that spans every field. The day I decide to get a horse, I hope Elena will be with me because she will know which one is right for me among many, even before I realize it myself."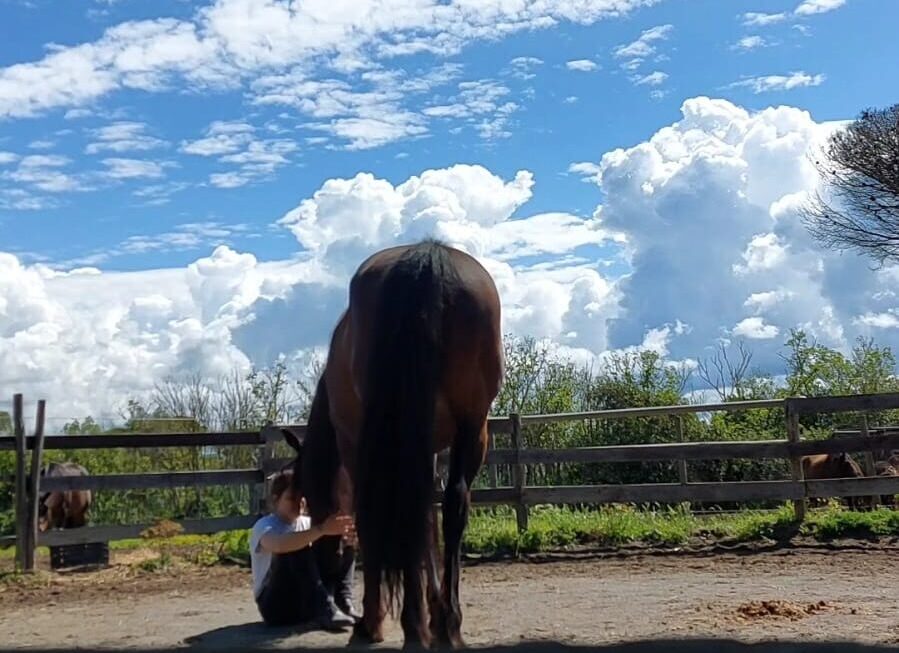 Now Alice is studying, and her future plan is to travel through Italy and, why not, the world, to share her vision with as many horse lovers as possible and help them establish an authentic, loyal, and mutually respectful relationship with these animals. She wants to use her innate abilities of listening, observing, and empathy to serve them.
For her future, Alice aspires to spread this new perspective on horses throughout the world, allowing humans to look at horses in a completely new way that respects their ethology and, above all, allows them to be free and fully themselves. She wants to contribute to the widespread adoption of Elena's method/non-method to fulfill her dream of seeing horses finally free from all types of constraints, happily running in meadows in an enchanted place like the "Farewell to the Mountains" of Manzoni's memory, and having a friendly relationship with humans based on trust, acceptance, and mutual respect, one of equality rather than subjugation.
We wish Alice that her greatest desire can soon come true: to be someone else's Elena, as she herself says, to be for others what Elena has represented and continues to represent for her.
May 2023
---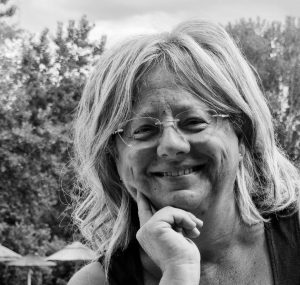 Elena Carfagna – Passionate reader and writer, her stories tell her deep love for life. To fathom the beauty of the human soul and to pay tribute to it is her mission.